Countdown to secondary pension requirements in Guernsey
We can help by making sure your company is ready with a local pension solution
All Employers will need to automatically enrol their Eligible Employees and pay minimum contributions (see graph for details) into a Qualifying Pension Scheme. Nearly all Guernsey and Alderney employees will be Eligible Employees. The approach is similar to the UK Government's establishment of auto-enrolment in workplace pension schemes.
Initially this is effective for Employers with 26 employees or more, with a later phased introduction depending on the number of employees each Employer has.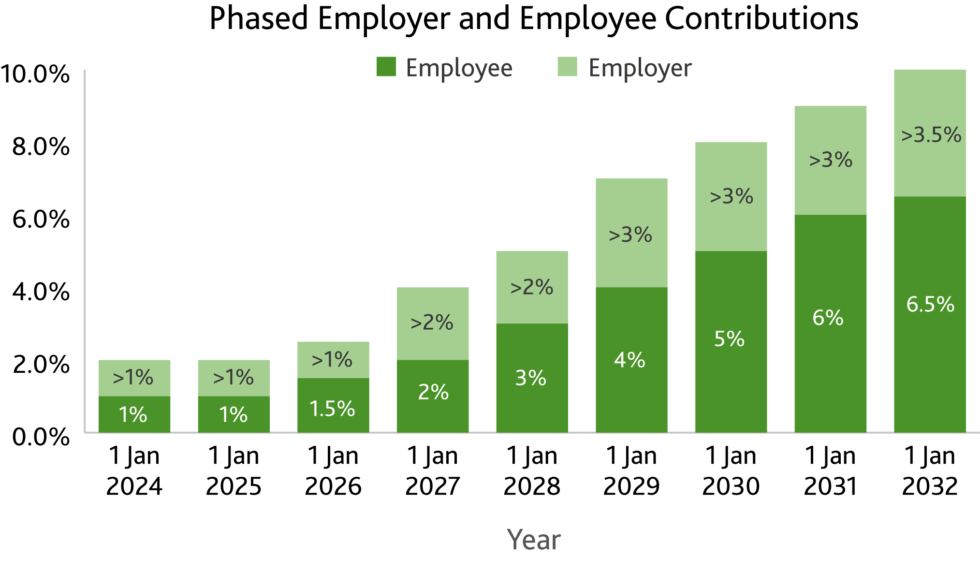 BWCI have been providing pension solutions to local Employers for over 40 years and provide a range of local, highly personalised, cost effective pension solutions to meet your requirements. We can offer:
A complete local solution through one of our existing qualifying pension products.
Flexible solutions for all companies; large, small, commercial and finance sector. 
Bespoke solutions for companies with complex needs.
Advice on how to make your existing pension arrangements meet secondary pensions requirements.
Delivering Pension Plan Solutions For Everyone
You can read more below about our Pension Schemes which are expected to be Qualifying Pension Schemes or get started today – With BWCI you can set up a scheme now and pay no contributions until you legally have to.
Blue Riband Channel Islands Retirement Plan
Blue Riband Guernsey RATS for Employers